Robotic Artist Residents in the News
Robotics resident Catie Cuan was recently featured in a video feature for Engadget, highlighting the importance of machine movement.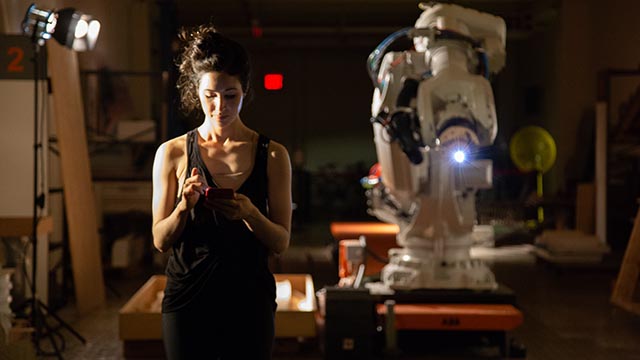 In the interview, Catie explains her ideas on how robotics are impacting society and how choreography can change the way we understand human-robot interactions.
Catie was also recently featured on a PBS NewsHour segment on the future of work. The segment shows how Catie is applying her project work created with Thoughtworks Arts to her doctoral research in Mechanical Engineering at Stanford University.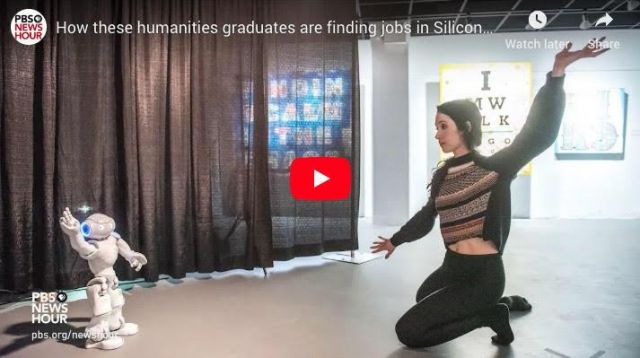 The software featured in the video, CONCAT, was created by developers at Thoughtworks over the fall. The technology enables Catie to rehearse her own bodily movements alongside those of industrial-scale robots.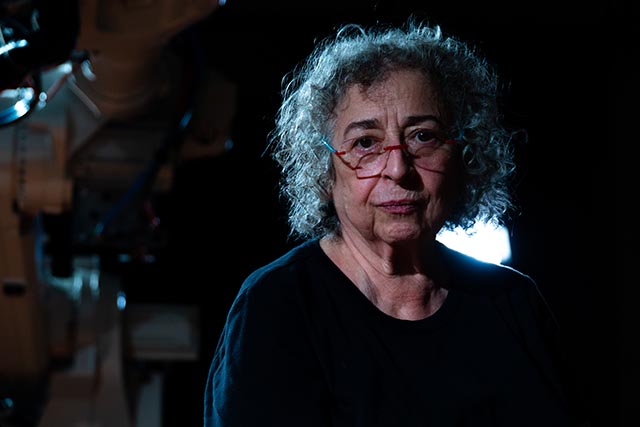 Adrianne Wortzel, also a resident at Thoughtworks Arts over the summer of 2018, is completing a film based on her explorations in robotics. The film, titled ROBOTA PERSONAE, will explore how "sentient" robots interact with non-sentient robots. Not a word is spoken in a choreographed dance, and yet movements and mime promote a totally visceral experience of comedy, tragedy, delight and horror. More updates coming in our next newsletter.
Thoughtworks Arts interview in CLOT Magazine
Curator and researcher Ashley Lee Wong interviewed Thoughtworks Arts directors Andrew McWilliams and Ellen Pearlman for CLOT Magazine about their ambitious arts residency to engage with socially relevant projects using emerging technologies.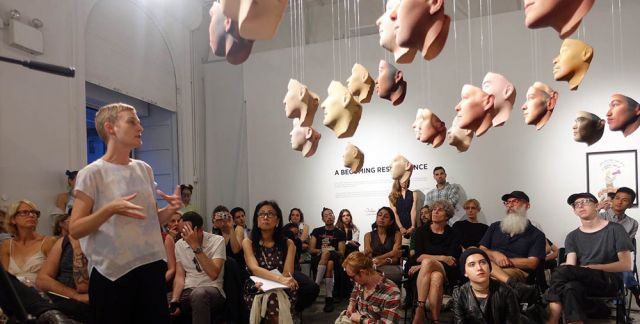 The article highlights the achievements and challenges of merging artists with technology and how Thoughtworks Arts is leveraging corporate resources for art and social change.
Final Projects from Art-A-Hack Special Edition Summer 2018
Project write-ups from our incredible Summer 2018 Special Edition Art-A-Hack with City Tech, CUNY are online now! Read on to learn about the four unique projects created around two broad themes:
Theme #1. Climate Change, Data & Disinformation:
Theme #2. Emotionally Intelligent Artificial Intelligence & Brain Computer Interfaces: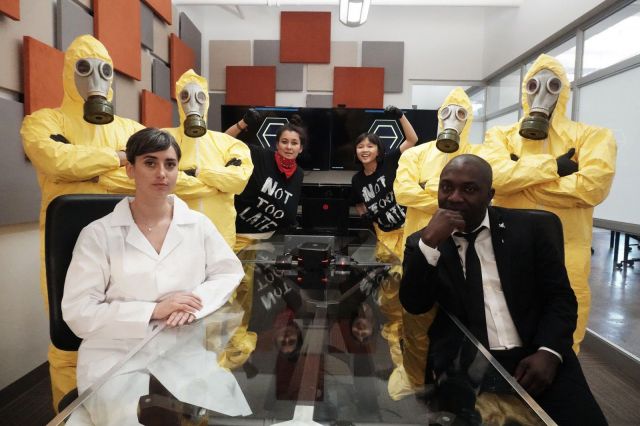 News from TWA Director Dr. Ellen Pearlman
Dr. Ellen Pearlman's PhD thesis received a global top ranking award for 2018 in the Leonardo LABS thesis abstracts for New Media. Read about her Brain Opera in the piece published in December in Immerse Magazine.
Ellen's work was also recently written up in the Latvian Magazine, Punctum in conjunction with the 2018 RIXC Art Science Festival on Global Control, where she served as a conference co-organizer and keynote speaker. Read the full EE-Report on the conference to learn more.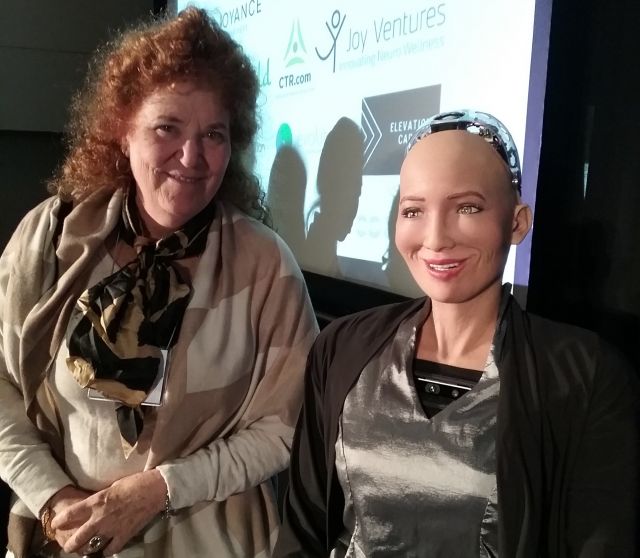 While in Europe for RIXC, Ellen was also invited to lecture on her work at ITMO University and St. Petersburg State University, Smolny College in Russia as well as at Leipaja University and RISEBA University of Business, Arts and Technology in Latvia. Ellen has been officially appointed as an Assistant Professor, Senior Researcher in New Media Art at RISEBA University, which also includes developing a joint doctoral program in new media with Leipaja University.
Ellen was also awarded an arts residency at QuartaRiata Art and Technology Residency at Peterhof, Russia, 45 minutes outside of St. Petersburg.
Don't miss her article on the use of the Art-A-Hack methodology, which was published in the double peer reviewed Journal of Problem Based Learning. Be sure to follow her on Facebook and Twitter to keep up with all her exciting work, and read MIT Press' PAJ (Performance Arts Journal), where she is now a Contributing Editor!
Karen Palmer at XConf
Past resident and storyteller from the future Karen Palmer was featured at Thoughtworks' yearly conference, XConf. Check out this video of her presentation on her immersive film combining gaming, art, science and technology and the work she did through her TWA residency.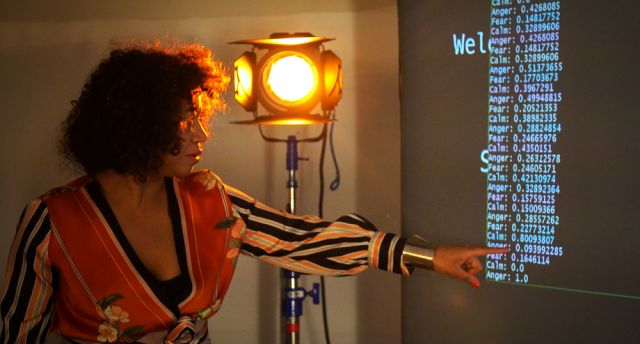 EmoPy, the facial expression recognition software created for RIOT by Thoughtworks developers, was recently written about in InfoQ. Join the 160 other developers using this open source tookit on Github to work on the future of time based facial recognition!
Updates from Art-A-Hack™ Alumni
Rene Anakwe is an Issue Project Fellow for 2019, as is Ying Liu, who presented at the Volumetric Society. Rene was also mentioned in NY Times review (as DJ Lady Lane) of Laurie Berg's 'scape' as part of Danspace Project at Times Square, New York City.
Martha Hipley presented a new digital experience in Art in Odd Places' 2018 exhibition with an opening reception at Westbeth Gallery at 55 Bethune St.
Annie Berman presented at ANNY, 2 days of Animation + VR.
Jason Levine presented at MIT CAST as a Visiting Artist : Combining Livecoding and Real-time Software for Musical Improvisation.
Sofy Yuditskaya built a satellite with Pepper Fajans at BKSD (Brooklyn Studio for Dance) and presented "Cosmic Odyssey - The Book" along with Ria Rajan, another AAH alum.
Gordy Chernyy and Maria Mishurenko are featured in a new video by holographic display company Looking Glass, founded by Volumetric Society speaker and workshop presenter Shawn Frayne.
Enki Andrews and Nejla Yatkin have a new video online, "Conference of the Birds."
Gene Kogan got a write up in ArtNet for Machine Learning, and was a panelist at the Art and Machines conference at the School of Creative Media, Hong Kong City University.
Lee Tusman has started an Assistant Professor of New Media and Computer Science at SUNY Purchase.
Tyler Parker had a debut as a tenor in Frederick Fleet in The Village Light Opera Group's TITANIC the Musical!
Exhibitions
Heather Dewey-Hagborg (Past Resident)
SPIRIT MOLECULE
Lifespace Science Art Research Gallery, University of Dundee Dundee, Scotland
Publications
Ellen Pearlman (Director)
Ellen Pearlman: Brain Opera, Telematic Performance, And Decoding Dreams
The Theatre Times
A Co-Lab on Developing Cyborg Arts - Interdisciplinary Collaborations and Practice Based Solutions
Journal of Problem Based Learning in Higher Education
Living with Robots - A Review
Leonardo Reviews
Moon Ribas & Neil Harbisson (Past Residents)
Live Q&A Session
The Next Web
Moon Ribas (Past Resident)
Moon Ribas: The cyborg who can detect earthquakes
CNN Style
Heather Dewey-Hagborg (Past Resident)
DNA Spliced with Plants in Bizarre Art Show
The Courier
Generative Representation
Unthinking Photography
Presentations
Andrew McWilliams (Director)
How Technologists Can Fight Climate Change
SustainableUX
2019 February 12, 2019
Sustainability and Art
GreenHome NYC
New York, NY
How Technologists Can Fight Climate Change
Aaron Swartz Day, Internet Archive
San Francisco, CA
How Artists Are Reshaping Tech Research
Aaron Swartz Day, Internet Archive
San Francisco, CA
Ellen Pearlman (Director)
International Symposium on Computational Media Art 2019
Hong Kong
Moon Ribas (Past Resident)
DMEXCO
Cologne, Germany
Blog Posts
Love this newsletter? Check out our archive, forward to your friends, and share our subscription sign up!